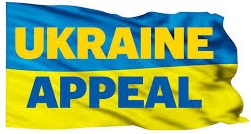 The Zen Restaurant Charity Night
A huge thanks to all our customers who have shown kindness in supporting our Charity Ukraine Appeal Fund (managed by D.E.C.).
We raised £4030.00 including cash donation from our customers who enjoyed our fund raising night last Sunday. – see receipt below.
We will donate100% of restaurant takings to the Disaster Emergency Committee ( DEC ) Ukraine Appeal Fund.
We would also like to thank you, our amazing team, who worked very hard on that night with some staff donating part of their wages.
We would like to give special thanks to our wonderful former colleague, May and the Thai lady chef Kim, who volunteered to help on the night and Meng who donated her home made cakes with the proceeds going to help with the fund raising.
Thank you to our volunteer staff: Jeab, Tanya, Maia and Star.
Once again on behalf of the management of 'The Zen Restaurant' we would like to give a huge THANKS to our customers and staff for their kindness.
Thank you for your support for the people of Ukraine.
Details of this Government backed fund can be found here www.dec.org.uk